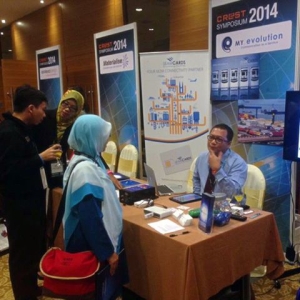 Kuala Lumpur Dec 2014
MY Evolution shows Smart City Solutions at Crest Symposium 2014.
CREST is the brainchild of a group of passionate people representing the interest of 3 key stakeholders of Malaysia's E&E Industry the Industry itself, the Academia, and the Government.
Launched in 2012, CREST was formed to address Malaysia's E&E needs for:
An Industry-Led Organisation to drive R&D innovation
A Platform for Local & MNC Companies to form a formidable R&D ecosystem
A sustainable pipeline for Industry-Ready Graduates
Currently located in Penang, the CREST office is within 20km radius of at least 3,000 researchers.
Inline with the country's Economic Transformation Programme (ETP), CREST will accelerate economic growth by being the platform for Industry and Academia to collaborate in research, design and development activities.
CREST's 15 Founding Members include 11 leading E&E companies namely Advanced Micro Devices (AMD), Altera, Avago Technologies, Bose, Clarion, Intel, Keysight Technologies, Motorola Solutions, National Instruments, OSRAM Opto Semiconductors, and SilTerra; together with the Northern Corridor Implementation Authority (NCIA), Khazanah Nasional, University of Malaya (UM), and University of Science Malaysia (USM).
Check their website here